Ravensong Products
---
| Farm and Gardens | Studio | Products | Calendar
---
All Ravensong products are hand-made at the Ravensong Studio on Vashon Island by Lynanne Raven. Below is a sampling of some of the items you'll find in the studio, although there are many others as well. Commissions and special orders are gladly accepted. Please contact Lynanne for more information.
Amish Quilts
The classic Amish styling and colors of these handcrafted quilts will add beauty to your wall or bed.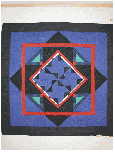 Christmas Stockings
These hand-made stockings come in a variety of themes and colors, and are generously sized to hold lots of goodies!

Picture Frames
In a variety of themes and colors, these picture frames brighten up any room!

Garden Trellises
Cedar trellises are available in a variety of heights, for your gardens or perennial beds.

Finials/Pole Toppers
A delightful way to color to your garden fences or trellises.