Ravensong Farm — Welcome!
---
| Farm and Gardens | Studio | Products | Calendar
---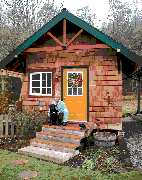 Welcome to Ravensong Farm's Website!
A trip to Ravensong Farm, on beautiful Vashon Island, will expose you to a variety of artistic media set in a beautiful farm-like atmosphere. From fabric arts and woodcrafts to garden art and jewelry, everything at Ravensong farm in handcrafted by Lynanne Raven, a professional artist since 1980. The beauty and serenity of Ravensong Farm provides a beautiful juxtaposition of Lynanne's works. Come visit us during the Vashon Island Winter and Spring art tours to see for yourself! Or, contact Lynanne via e-mail to set up a private viewing.
Please follow the following links to learn more about Ravensong Farm, Lynanne's art, and upcoming events. Thank you for visiting the Ravensong Farm Website!